Instagram Adds New Comment Reply Option, Tests Star Sign-Related Stickers
Instagram's adding a new way to interact with post replies, while it's also experimenting with an interactive star-sign based sticker, in order to facilitate more engagement.
First off, after experimenting with the feature over the last few months, Instagram has now officially added the capacity to share comments from any public post or Reel to your IG story.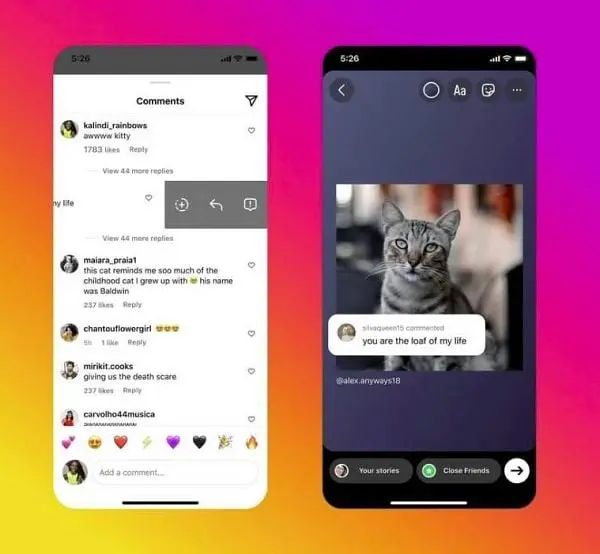 As you can see in this example, now, when you swipe left on a comment, you'll see a new option to share it in your story. The comment will then be featured in a new sticker type, which you can place anywhere within the story frame.
It's pretty much the same as TikTok's video comment replies option, which it added back in 2020, while YouTube also has Shorts comment replies, which it expanded to all public comments (in addition to comments on your own clips) back in June.
The idea is that this will provide more prompts for your short clips, by providing the capacity to highlight interesting comments within new videos.
And it's clearly driving engagement on other apps, so it makes sense for IG to also jump on board, and align with usage trends.
On another front, Instagram's also looking to get into horoscopes, with a new test of an astrology sticker in the app.
You can see the new sticker in this example screenshot, posted by app researcher Alessandro Paluzzi, which, when added to your story or Reel, would include a symbol and star sign title to highlight your birth alignment in-stream.
Using the sticker will then also invite additional engagement opportunities, via a star-sign matching feature, which will enable users to check their relative compatibility with you via the sticker you use.
It seems like a pretty minor element, and as such, it's somewhat surprising to see how prominent IG looks to be testing it within the sticker tray. But then again, research also suggests that star signs have been seeing a resurgence among younger audiences of late.
So it may well be a valuable and inventive way to spark more engagement, by prompting users to check how their shared stars align, via these listings.
From a marketing perspective, the comment reply option could be a good way to highlight positive mentions, and give your engaged fans the spotlight, while it'll also provide more opportunity to showcase mentions of your products on other posts, which could help you glean more promotional value from such.
The star signs feature is probably not as valuable, but maybe, if that aligns with your audience, you could use it to showcase the star sign of the month, and share brand or product-related insights based on that sign's key traits.
Yeah, the comment sticker definitely has more direct potential here, but worth considering both either way.
The new comment reply option is available to all users from today, while the star sign sticker is still in testing, with no official release date as yet.
Originally published at Social Media Today